Our Story
GrassStreet, based in central North Carolina, has entertained fans of all ages since 2003. Their mixture of original material and bluegrass standards along with their unique ability to cover musical styles ranging from rock to blues to jazz set them apart from the average bluegrass band. They pride themselves on an entertaining and high energy stage show full of the right balance of musical precision and humor. With influences ranging from the traditional sounds of Flatt & Scruggs to the progressive sounds of Seldom Scene and Tony Rice and with members with backgrounds in bluegrass, country, jazz, rock, and R&B there's always something for every listener at a GrassStreet show.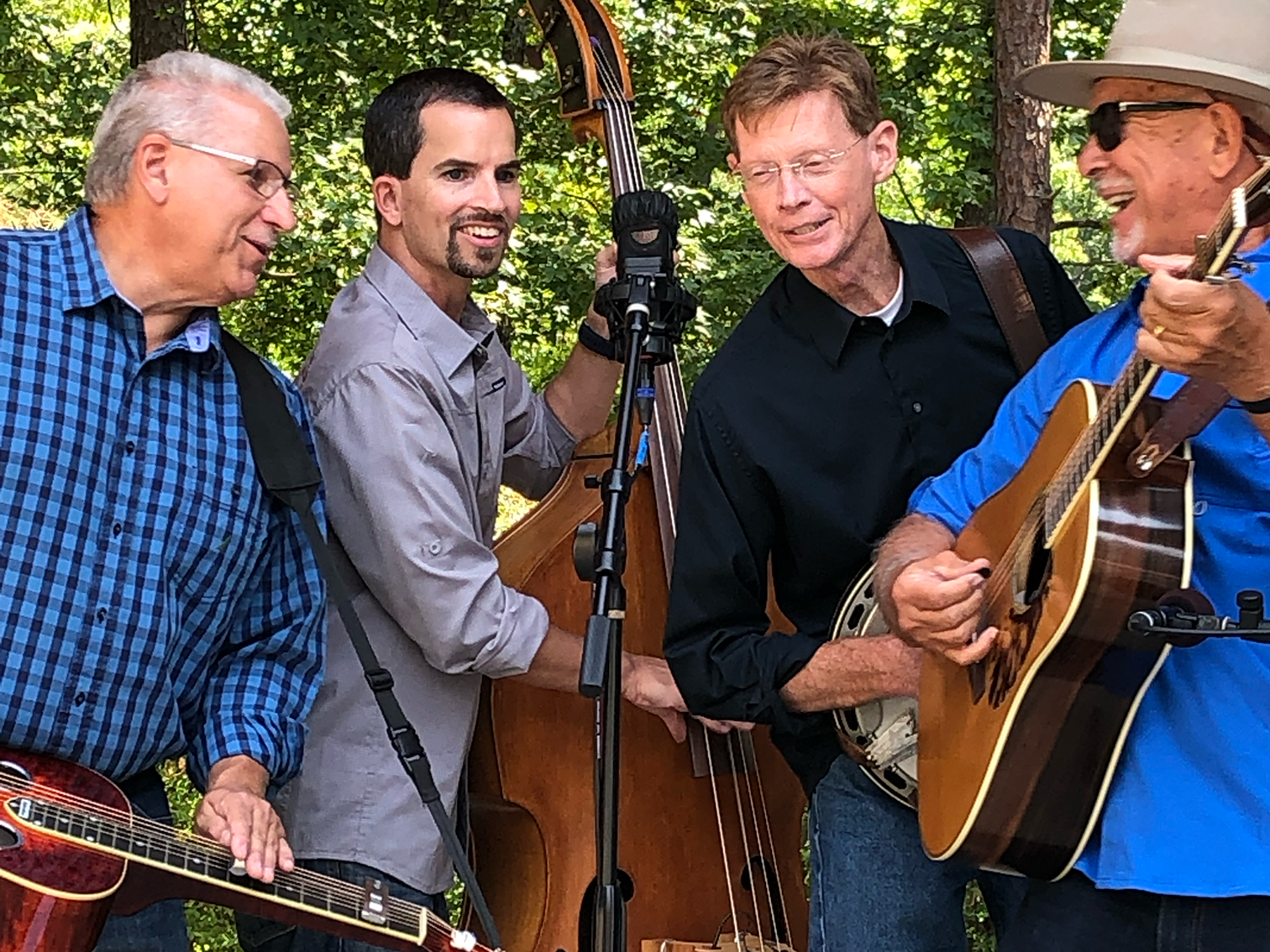 ---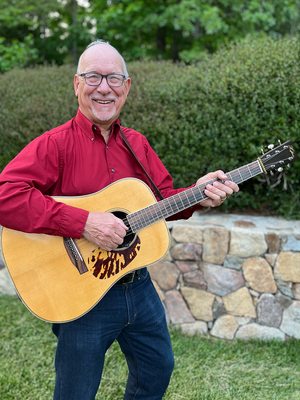 Wayne Kinton

guitar, vocals

A Henderson, N.C. native, Wayne is proficient in an array of musical styles from traditional string music to jazz and swing.  His diverse musical background prepares him well for any musical setting. You could easily find Wayne at an old-fashioned bluegrass picking session, the orchestra pit with the community theater or ripping a Stratocaster in a rhythm and blues tune.  His music has been featured in theater productions, TV/radio spots, video documentaries and an independent film.  

Wayne discovered bluegrass during the early '70s while in college and this unique genre became his musical passion.  After a childhood of being exposed to the stalwarts of traditional country/bluegrass artists through his dad, Wayne had a clear understanding of the roots of this music.  However the influence of the contemporary bands of the '70s drew him to stretch the boundaries of bluegrass. Always in an effort to make this musical format appeal to audiences outside of the bluegrass world, Wayne interjects elements of other genres into his music.  This concept is evident in his musical direction through the years as well as in his songwriting.  

GrassStreet has a contemporary musical format based on traditional styling with a modern presentation vocally and instrumentally.  The material for this band is a mixture of bluegrass standards and original compositions.  GrassStreet is a derivative of the band Swift Run which has performed regionally since the early '80s with two albums to their credit and numerous awards.   

An album entitled Acoustic Pathways was released in December 2003 with his son, David. Wayne wrote and arranged most of the material for the band's debut album, Better Times, released in July 2004.  An all gospel project, Grandma's Hymnbook, was released in 2008.  A sampling of GrassStreet's live show is available in two live albums. The latest of the two is Showtime - recorded in 2011. Time Moves On, released in 2016, features more of his songwriting talent.
In 2022, Wayne release a solo album of all gospel music featuring him on clawhammer banjo.

Wayne and his wife, Debbie, own an insurance business in Henderson.  They are active in their church and community and enjoy spending time with their granddaughter, Chloe. 

On stage, Wayne plays a 1951 Martin D-18 and Huffman guitar.
 
---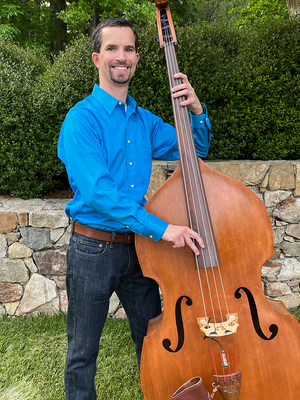 David Kinton

upright bass, mandolin, vocals

A 2004 graduate of UNC-Chapel Hill with a minor in jazz studies, David has been performing since 1996 and is proficient in a variety of different styles of music with the acoustic bass as well as electric. While at UNC, he was active in the jazz studies program where he played upright bass with the UNC Jazz Band & Jazz Combos and is featured on their 2004 CD release, From One To Another.  He has also performed and released a CD entitled Where You Are with a Christian rock band, DeeperStill, from Wake Forest, N.C.  He now resides in Durham, N.C. with his wife Steffi and daughter Chloe and works in Web Development for the UNC School of Medicine. He is also active in the student and music ministries at his local church.

David grew up with bluegrass music and followed his dad (Wayne) to bluegrass festivals since he was small.  A  love for bluegrass music developed as well as his musicianship.  His solid timing as well as his various musical influences, contributes to this band's intense drive and unique sound. David cites his dad Wayne as his biggest musical influence. Some of his bass heroes are Tom Gray, Ray Brown, Christian McBride, Todd Phillips, Mark Schatz and Jason Moore.

David plays a 1952 Kay upright bass.
 
---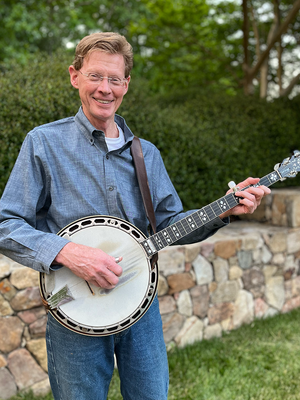 Ricky Hargis

banjo, vocals

Ricky is no stranger to the bluegrass scene. He started playing music around the age of 7, learning to play the autoharp and banjo from a neighbor down the road. He has played with many local and regional bands such as Carolina Express, Younger Mountain Boys, Lovers of Gospel, New Classic Grass and Second Chance. He can also be seen in the area filling in on banjo and bass with other local bands.

Ricky makes his home in Roxboro, N.C., where he is active in his church and community -- playing music in nursing homes and playing bass for the church choir.

Ricky's finesse and melodic style of banjo adds a unique dimension to the GrassStreet sound without losing any of its signature drive. You can't help but smile while watching Ricky enjoy himself on stage.
---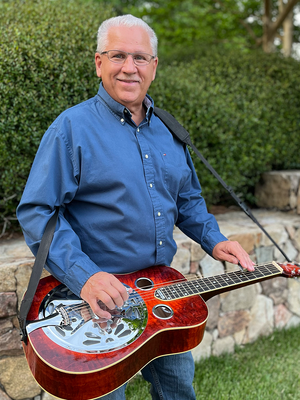 Tab Kearns

dobro, vocals

Tab plays dobro for GrassStreet, having joined in September 2008.  Tab 's taste and timing on the dobro bring both a smooth and powerful touch to the band.  His lead and backup on the slower songs really sets the mood and his aggressive attack on the more upbeat songs embellish the band's hard-driving bluegrass edge.

Of Tab's many influences, he cites Duane Allman, Jimmy Page, Jerry Douglas and of course Josh Graves as his most influential musicians.

Tab plays a Scheerhorn Maple and a Scheerhorn Rosewood/Spruce Resonator Guitar.